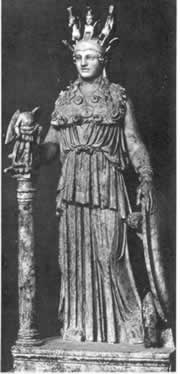 Athena Parthenos, Greek goddess of Wisdom. (Parthenos means Virgin). This statue reproduces, with a slight variation in posture, the celebrated Athena Parthenos by Phidias in the Parthenon. The huge statue, approx. 42 feet tall, dominated the interior of the Parthenon in Athens, Greece. Athena's dress was covered in gold. She held a shield upright with a snake coiled within it; the other hand held a Nike (Victory). Phidias' massive statue of Athena stood in the Parthenon 438 BCE until 429 CE, a total of 867 years.The reproduction above is 2nd century CE. Athens Museum.
New Larousse Encyclopedia of Mythology, p. 107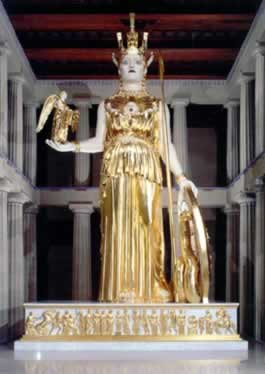 This full-scale replica of Athena Parthenos, Greek goddess of Wisdom, is 41 feet 10 inches tall, and weighs 12 tons. The goddess of victory in Athena's right hand is 6 feet 4 inches tall. (see Footnote A-1 ref Athena statue)
Located in Nashville, TN, Athena Parthenos is the centerpiece of a full scale replica of the ancient Parthenon.
(see Footnote A-2 ref Parthenon, Nashville)
MYSTERY--WHO HID DIVINE WISDOM?

Paul of Tarsus gives us three clues in his first letter to the Corinthians. First, he mentions "...God's hidden wisdom..."
(1 Corinthians 2:7). This alerts us to the fact that for reasons unclear, someone has hidden wisdom.
His next clue tells us that wisdom is a Greek, not a Jewish phenomenon: "...Jews call for miracles, Greeks look for wisdom..." (1 Corinthians 1:23).
Concerning Jesus Christ, Paul states: "...God has made him our wisdom..." (1 Corinthians 1:30). "...he is the power of God and the wisdom of God..." (1 Corinthians 1:24)
OUR wisdom suggests that for Christians, Christ is now "our" wisdom.
OK, but what happened to the original Greek wisdom that is hidden?
Who was this Greek wisdom?
And who hid wisdom?

THIS WEB SITE SEEKS TO SHED SOME LIGHT ON THIS MYSTERY
FINDINGS:

Statement A

IN ANCIENT GREECE- ATHENA, GODDESS OF WISDOM, WAS FAR FROM HIDDEN


9,000 BC- We note that Plato (429-348 BCE) ascribes Athena as the patron/parent/educator of Athens 9,000 years prior to his time.(see Plato Timeaeus 23d footnote 1-A). Plato states that the Goddess Athena is both "...a lover of war and a lover of wisdom..." (see Plato Timaeus 24d footnote 1-A).
Plato Cratylus 407a-b - "The ancients seem to have had the same belief about Athena as the interpreters of Homer have now; for most of these, in commenting on the poet, say that he represents Athena as mind (nous) and intellect (dianoia); and the maker of names seems to have had a similar conception of her, and indeed he gives her the still higher title of "divine intelligence" (hê theou noêsis), seeming to say: This is she who has the mind of God (Theonoa)..."
(see footnote 2-2)


Athena was the protector of the city, under such surnames as Polias or Poliouchos. (see footnote 10-1)
In addition to the protector of Athens, the Goddess Athena protected such major cities as Constantinople (see footnote
10-2) and Rome (see footnote 10-3)


800 BC- The Greek goddess of Wisdom Athena appeared 162 times in HOMER'S ODYSSEY. She came down from heaven and provided significant help to Ulysses in his earthly travails. (see footnote 1-1)

Statement 1

We note five key attributes in Homer's Odyssey attributed to Athena, Goddess of Wisdom, that are common to Divine Wisdom in later Jewish Wisdom texts.
Click for supporting documentation
Statement 2

300-100 BCE- We suspect Jewish OT Biblical writers "hid" Athena by taking Her deeds and re-labeling them as deeds of Divine Wisdom.
Click here for supporting documentation

Statement 3

210 CE--Early Christians were worried about Homer. Why?
CHRISTIAN GNOSTICS "MAGNIFY HOMER AS THEIR PROPHET..." so states Hippolytus, literalist Christian heresy hunter in his ca 210 Refutations of all Heresies, book 5, chapter 3 (see footnote 6-1)
Statement 4

429 CE-- Early Christians "hid" Athena, Goddess of Wisdom, by destroying Her statue in the Parthenon.
Athena installed in her Temple the Parthenon in Athens in 438 BCE, atop the Acropolis. (see footnote 3-1)
Athena (42 foot tall statue) remained enshrined inside the Parthenon until 429 CE (a total of 867 years), when "The Temple of Goddess Athena (Parthenon) on the Acropolis of Athens is sacked." (see Footnote 3-2)
"The Christians, under the emperor Theodosius II, removed the statue to Byzantium, where it was stripped of its
gold and destroyed without a trace." (see Footnote 3-3)

Statement 5

527-565 CE- CHRISTIAN ROMAN EMPEROR JUSTINIAN (RULING FROM CONSTANTINOPLE) EMBRACED CLASSICAL GREEK THINKING---he built the magnificant church Hagia Sofia (Divine Wisdom) in Constantinople which was described at the time using thinly veiled references to Athena.
Click here for supporting documentation


Statement 6

630 CE- ATHENA'S TEMPLE NAMED AFTER DIVINE WISDOM--
"The most important symbol of Greek heathenism, the Parthenon, was changed in the seventh century into a church for Aghia Sophia, the divine wisdom..."
(see footnote 9-1)
"It is by no means coincidence that the chief temples of Pagan Athens and Christian Constantinople were both dedicated to Wisdom. The Parthenon as the shrine of the Goddess Athena, Goddess of Wisdom, and Justinian's Great Church both showed respect for "Sophia" which has always been one of the chief traits of the Greek mind.
(see footnote 9-2)
In a 2001 trip to Greece, I noted little or no references to Athena, 867 year resident of the Parthenon. As I recall, I had to grab a docent at an Athens musueum and get her to take me to a locked room in the back, where I was shown the Athena statue. This was the only time I saw or heard of Athena on a week long Greek trip (Athena is pretty well "hidden").
Statement 7

1204 CE---Roman Christians "hide" the treasures of Agia Sophia by sacking the place---
"After conquering Zara, the Crusaders diverted to Constantinople rather than sail on to the Holy Land. They and the Venetians attacked Constantinople, the richest Christian city in the world. They plundered the city and took its wealth,
including the treasures of the great church Hagia Sophia. They battled against other Christian men and they raped Christian
women.
The conquering of the great Christian city in 1204 ended the Fourth Crusade and had significant religious and political
consequences. A number of Latin states were established in Greece and the Aegean; the communion between Roman
Catholic and Orthodox Churches ended. The Byzantine government moved to Nicea. Likewise most of the Greek bishops
abandoned their sees and took refuge at Nicea, leaving their churches to the Latin bishops; Greek convents were replaced by Cistercian monasteries." (see Footnote 8-4)
The antics of Opus Dei in THE DA VINCI CODE fall into a pattern somewhat consistent with the sacking of the Parthenon and Hagia Sophia by the Roman Christians.